Over USD 100 million transferred to local partners in Poland for Ukraine Response
We are proud to share that in 2022, the below signatory INGOs below, transferred over USD 50 million directly to local partners in Poland. In 2023 this figure increased up to USD 60 million.
In total, we will have transferred over USD 110 million directly to different local partners by the end of this year - representing on average 51% of our total country office budgets.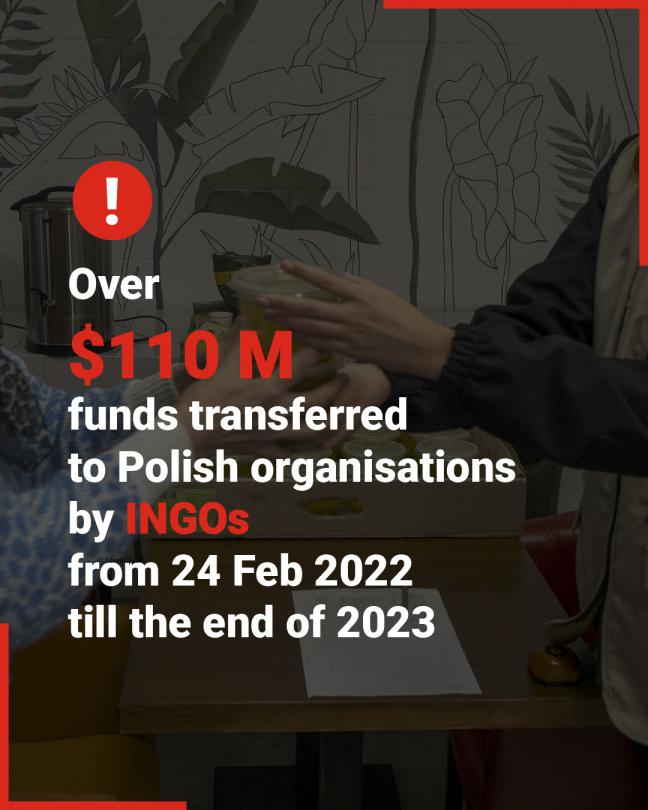 We believe that these funds and the shared learning from this response are a significant contribution to the localisation agenda globally, and highlight the central role of the local partners, including refugee- and women-led organisations, in delivering support to displaced populations across Poland.
Looking ahead to 2024, we are concerned about the declining funding environment for NGOs in Poland and the impact this will have on both the unmet needs of the vulnerable refugees, and on the local NGOs and CSOs. Despite this anticipated funding drop next year, we remain resolute in our commitment, and in 2024 we plan to direct over USD 28 million directly to local partners. We will work with all stakeholders to identify additional funding sources ensuring sustained support for our partners.
Just under one million refugees from Ukraine, mostly women and children, remain in Poland registered for temporary protection. Local organisations and communities were the first responders supporting hundreds of thousands of refugees from Ukraine as they fled to Poland seeking protection and safety. INGOs focused on complementing their efforts by delivering emergency response, as well as providing training and support enabling local organisations to build new skills in humanitarian emergency response.
We call on donors to continue funding the refugee response in Poland in light of ongoing high levels of need and vulnerability to refugee populations. This should include continued financial support for both local NGOs and INGOs that continue building humanitarian response expertise in Poland.
Action Against HungerAlightCAREDanish Refugee CouncilInternational Rescue CommitteeNorwegian Refugee CouncilSave the Children PolandLutheran World Federation Poland