Save the Children Poland's representatives met the Commissioner for Human Rights
Participants of the meeting at the Office of the Commissioner for Human Rights, photo: Grzegorz Krzyżewski/BRPO
On 23 August 2023, Save the Children Poland's representatives met the Commissioner for Human Rights, Marcin Wiącek. The meeting was attended by our Response Director Bujar Hoxha, Safeguarding Advisor Ewelina Buś, and External Relations and Local Government Advisor Katarzyna Sokolowska. The Commissioner was accompanied by Chief Coordinator for Strategic Cooperation Maciej Grześkowiak and Head of Family Law in the Civil Law Team Michał Kubalski.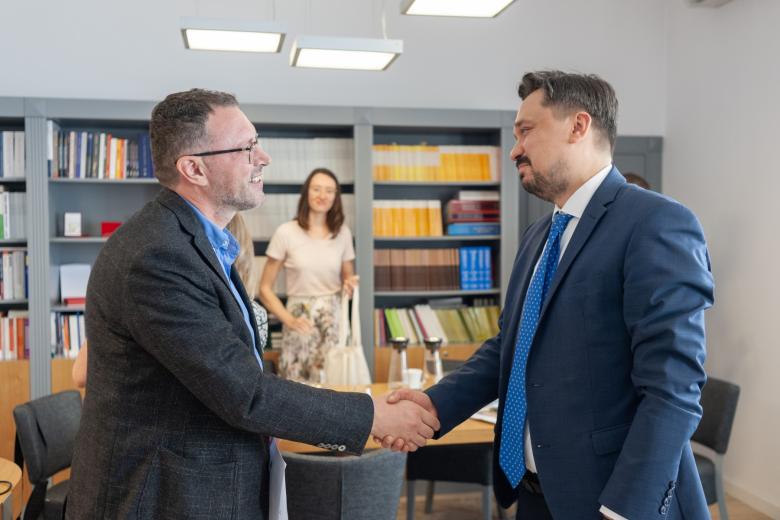 RPO Marcin Wiącek and director Bujar Hoxha, photo: Grzegorz Krzyżewski/BRPO
Conversations focused on the protection and implementation of children's rights in Poland. We discussed the situation of children with disabilities and from minority groups, such as Roma children, as well as the situation of minors on the Polish-Belarusian border and in detention centers. We also discussed how the war in Ukraine and related displacement has affected the situation of children in Poland and touched upon the role of civil society in the protection and implementation of children's rights.
The meeting was very fruitful and inspiring, as it showed a strong alignment between both Save the Children and the Commissioner for Human Right on the need to join forces and work in synergy to ensure that all children in Poland are protected and can fully enjoy their rights.